For 10 months we've been counting down the days until we move abroad for a 2-year adventure. We spent our last few weeks packing, sorting, storing, and selling our goods and furniture and organizing our small travel bags.
When the day came to say goodbye I was excited and nervous. Honestly, I was pretty overwhelmed with just about every emotion on the spectrum.
Our first major stop would be Canada. One week in Alberta traveling between Calgary and Banff, then three weeks between Vancouver and Whistler. We decided to drive into Canada and keep our car for the month we'd spend there, which meant deciding on a road trip plan to take us north.
After hearing lots of good things, we decided to make a 3-day stop in  Glacier National Park!
I didn't know anything about Glacier National Park  (also known as Waterton Park in Canada, as it extends beyond the border) before our trip, and I didn't really want to know. That was all Ben. I knew I'd be preoccupied with the move and excitement of what was to come, so I asked him to figure out all of our plans for Glacier and to just surprise me.
Our time in Glacier National Park turned out to be a wonderful surprise and exactly what I needed after a stressful few weeks!
Getting to Glacier National Park 
We drove to the park at the end of May. By that time in the year the rolling foothills of the Rocky Mountains were lush and verdant, every bit as beautiful and mesmerizing as locals (all 2 I know) had said they would be.
I was captivated by the small towns we passed as we drove on I-15 through Butte on our way to West Glacier. Few and far between, the gas stations and restaurants we found were nestled near farmlands and largely made of whitewashed wooden structures.
Montana feels quaint and welcoming, as you would expect the Wild West to be (joke). But seriously, it feels like the entire state has stood still in time.
Including their lack of internet or decent cell service. But sometimes you need a little freedom from those wireless strings, right?
East Glacier National Park 
We started our Park excursions in East Glacier from the small town of St. Mary's. St. Mary's has a few lodge-style hotels and some restaurants, but most were still boarded up from the winter.
I was mostly upset to find that the Park Cafe, famous for an incredible selection of pies, was still closed for the season. Memorial Day is over, People! I want pie! Oh, well.
The big draw here is the famous Going-to-the-Sun Road. It's been named one of the most beautiful drives in America and bisects Glacier National Park from the East to West sides. Unfortunately for us, the past winter was extraordinarily harsh in Northern Montana and mounds of snow had yet to be plowed or melt. The excess snow closed the middle section of the Going-to-the-Sun Road, including the most popular spot: Logan Pass. Darn! No pie and no Logan Pass!
Our cabin for the week was in West Glacier, but we were willing to start in East Glacier just to drive the few open miles of the Going-to-the-Sun Road on their side. I really loved it! There were hardly any other visitors in late May, and we were able to safely stop our car and take pictures in the middle of the road without seeing another person.
My favorite part of the Sun Road in East Glacier was one section that winds around a steep cliff side. You see the mountain on one side and a drop to Lake Saint Mary on the other. It's stunning!
Our favorite stop on the East Glacier Sun Road was to visit Wild Goose Island. I wasn't sure what to expect here. We'd asked the Visitor's Center attendant for a good spot to visit and take pictures of the area, and this was what she recommended. Do you go to the island? Are there Geese on it? Do we cross a bridge? 
As it turns out, Wild Goose Island is just an adorable, random, tiny island in the middle of Saint Mary Lake! The sight really was beautiful. By parking on the side of the road and venturing a little bit into the roadside woods we had a great view of the mountains surrounding the tiny island in the middle of the crystal glacial water.
Pictures (at least mine) don't do it justice!
West Glacier National Park 
Ben chose our accommodations for those few days perfectly: a private cabin inside the park limits. The biggest town on the west side of Glacier National park is Whitefish, but it's 45 minutes away from the park entrance! On the plus side it does have a Subway. So, there's that.
Our cabin only took a few minutes to drive to, which was super convenient for getting up early and staying out late to explore.
And explore we did!
Over the next two days we drove the open Sun Road from the west side, hiked, explored small neighboring towns, ate, looked for animals, and found as many lakes as possible.
This side of the Sun Road wasn't as beautiful (to me) as the East side's, since the views of this side's lake were more impeded by road side trees. Our favorite stop on the road, though, was to MacDonald Falls. Clearly marked and easy to park at, there are two viewing platforms that overlook the powerful, rushing glacial water. And, boy, was it rushing!
We decided to walk down the street a little ways away from the platforms and carefully walk down the stone barrier to the water's edge. It was an incredible moment; just us and the water. So worth it.
Our favorite thing to do in the west side of Glacier National Park was the hike to Avalanche Lake. It starts off as a short walk, Trail of the Cedars, which you can take as a loop back to the parking area or extend into the Avalanche Lake hike.
All combined the hike was 5.5 miles round trip, took us around 3 hours, and had an elevation increase of 400 ft.
We loved that it followed a gorge with a gorgeous stream flowing through it. It was truly like walking in a nature postcard! The path was well-maintained and easy to follow and led to Avalanche Lake; a secluded glacial lake with stunning mountain views.
Map of Glacier National Park 
This map is available online and is also included in the handout at the park's entrances. In the handout you will find short descriptions of each stop, which will help you decide where to go!
Also ask the entrance attendants for recommendations. They spend a majority of time here and are a great resource!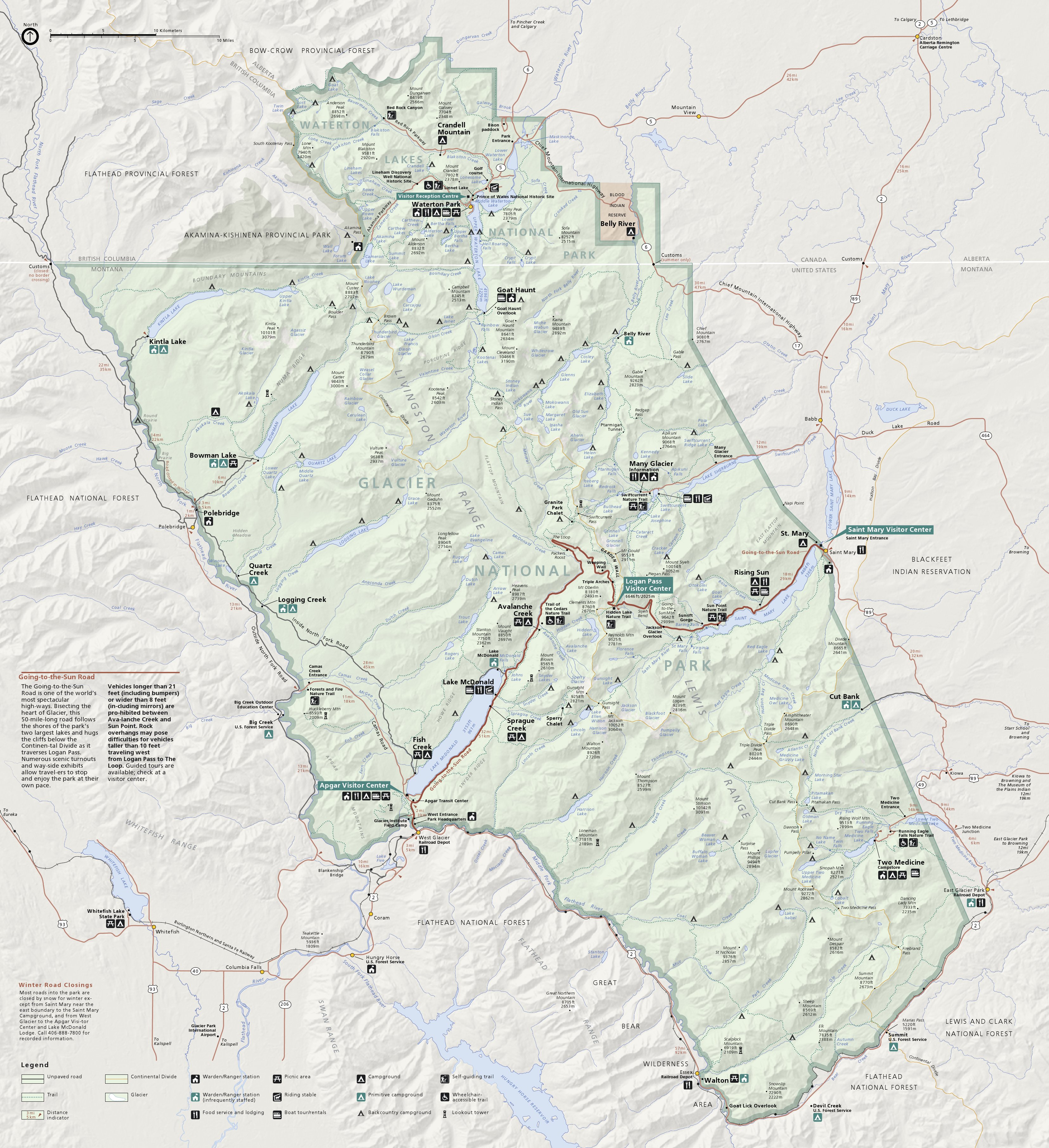 Highlights of visiting Glacier National Park 
Whit making friends with a park chipmunk. Thank you, overly domesticated park wildlife.
Hiking past a gorge stream
The incredible color and power of the water
Feeling like we had the park to ourselves
Eating huckleberry EVERYTHING
Getting away from cell phones and internet for a few days of peace
Overall I'm definitely glad we spent a few days in Montana's Glacier National Park. It is just as beautiful as people claim! I do wish the full Sun Road had been opened, but, who knows, maybe we'll just have to go back!
Planning your own trip to Glacier National Park? Pin this article for later!